I Came
I Saw
ĦAy Caramba!

Other pages only say they walk on water
---
Hey Arnold! sites
It's gotten to the point where they have their own page - click here
---
CatDog sites
The Great MeowWoof's (host of the CatDog mailing list) CatDog site
The Nickelodeon CatDog SuperSite
---
As Told By Ginger sites
It's gotten to the point where they have their own page - click here
---


SpongeBob SquarePants sites
Bryan's SpongeBob SquarePants Site
---
The Wild Thornberrys sites
The Klasky-Csupo The Wild Thornberrys site
And if you've ever asked why they don't show the pilot, it's probably because it's only half as long as a normal episode (it was shown, unannounced in advance, during the 1998 Big Help-A-Thon - you didn't miss much; they don't explain how Eliza got her ability to talk to animals, nor where they got Darwin or Donnie (they do explain the first two of those in "Gift of Gab", although it's slightly different from how it's shown in the opening)
---
AAAHH!!! Real Monsters sites
The AAAHH!!! Real Monsters episode guide
John Jones' AAAHH!!! Real Monsters site
The Klasky-Csupo AAAHH!!! Real Monsters site
---
The Angry Beavers sites
The The Angry Beavers episode guide
---
The Simpsons sites
The Simpsons Trivia Quiz (for those of you tired of the easy ones)
Fox Television's Official The Simpsons Page
---
Other Sites
The Official Nickelodeon web site
The Dexter's Laboratory episode guide
Steve Mindykowski's Rugrats Online site
Richard Brant's Rocko's Modern Life page
---
NOVEMBER 20, 1982
(as seen on TV...over and over again)
Millions of people claim to have been there
How many of them have one of these?
...and no, I was not on my way out when "The Big Play" happened
For those of you who asked, "What is he talking about?", this was the Cal-Stanford football game that had the famous five-lateral kickoff return that included the Stanford band at the end
2021: Cal 41, Stanford 11
THE AXE! GO BEARS!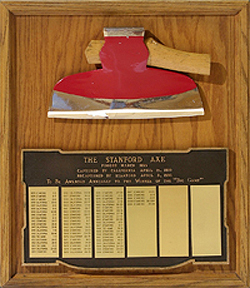 ---
Brought to you by Don Del Grande,